The Headlie Taylor Heritage Project
The Headlie Taylor Heritage Project aims to recognise the historical contribution to agriculture of Headlie Taylor, who was Australia's greatest inventor in the field of agricultural machinery. This farmer's son, who left school at the age of 14, developed the header harvester and laid the foundation of mechanical harvesting of grain which was adopted in Australia and throughout the world. The header harvester was developed in a farm blacksmith shop at Henty in southern NSW at a time when the young nation of Australia was patriotically finding its identity.
Headlie Taylor went on to make many inventions in Australian agriculture and he participated in the great advance of farming as Australia became one of the great food exporters of the world. He worked and remained at the Sunshine Harvester Works for the remainder of his working life.
The centenary of the header was recently celebrated in Henty and the original concept has stood the test of time. Today's modern self propelled harvesters use the same principles as these original machines, built in a blacksmith shop 100 years ago..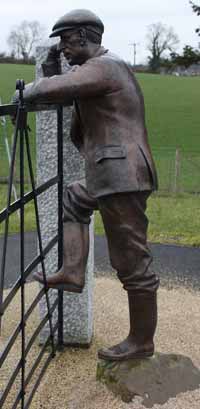 HARRY FERGUSON STATUE
DROMARA, CO DOWN, IRELAND
The Headlie Taylor Project will recognise this remarkable man by crafting a sculpture in front of the Headlie Taylor Header Museum at Henty. This will raise the profile of the museum as we acknowledge a part of Australia's history.
The project will also provide an ongoing memorial scholarship to support a new invention in agriculture, to perpetuate the endeavours of Headlie Taylor and his development of the header harvester.
The expected cost for the sculpture and surrounds will be in the vicinity of $100,000. The scholarship will be generated from a memorial trust fund which will be developed from an additional $100,000, to securely preserve the capital and provide the annual scholarship. Funding is anticipated to be jointly raised by government grants, corporate sponsorship and public donations.
The Team are contemplating a sculpture similar to the concept of the Henry George (Harry) Ferguson sculpture (right) which stands in Dromara in Northern Ireland. The history of both men is surprisingly similar.
Harry Ferguson was noted for his role in the development of the modern agricultural tractor with its 3 point linkage system which first appeared on his 'Ferguson Black' in the 1920s.
Headlie Taylor is similarly noted for his role in the development of the modern harvester, introducing his 'cut them don't beat them' header harvester in the same era. Modern harvesters still use many of the concepts devised by Headlie Taylor, although his name does not appear on any such machinery, as the patents were acquired by H.V. McKay's Sunshine business.
The Project Team would like to honour this wonderful inventor who so influenced modern agriculture.

We welcome any donations to assist in this endeavour.